San Juan River Fishing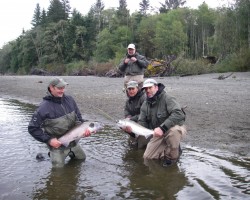 The San Jaun River has been a long time favorite of Kenzie's due to some of the rivers unique characteristics. This incredible river offers anglers a variety of trophy sized fish species, as well as some very different fishing conditions and opportunities.
YOUR DAY INCLUDES THE FOLLOWING:
Experienced, professional, licensed and insured guides
All fishing equipment (both fly and gear fishing available)
Waders if necessary
Jet and drift boats will be used water levels permitting (2 guests per boat)
Fishing instruction throughout the day
Hearty, "BC style" packed lunch as well as beverages, fruit, and snacks
Fishing time is a minimum of 6 hours long to approximately 8 hours max.
PRICES
Prices start at $499 Cdn. per day.
Prices based on two guests per day.