West Coast Ocean Adventure 3 or 4 days:
For  Chinooks (Kings) and  Coho (silver)  salmon fishing; will only  be offered between August 28th and September 15th. ( longer West Coast adventures may be arranged )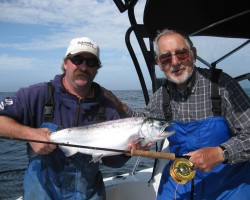 This trip departs from Lake Cowichan and heads  west  across  Vancouver Island with our ocean boat in tow. Our first destination is  Nitinat  Lake. This lake is a unique tidal lake, it also just happens to be the passageway for some of the largest Chinook (King) salmon on the coast of  Vancouver island. These fish stage at the south end of the lake waiting for the fall rains before heading to the north end by the Nitinat River.   On the south end of the lake we either cut-plug  or sting for these fish with  light equipment.  30 to 40 pound fish are common with some over 50 pounds.
At the day's end, the boat is trailored to the quaint village of Bamfield  (approx 1 ½ hour drive). This small town is located in Barclay Sound at  the head of the  Alberni Inlet . We choose this location for both its beauty and the exceptional fishing.  The targeted salmon species in this area are Chinooks (Kings) and Coho (silvers).
We will fish this area for either 1 or 2 days depending on the length of the fishing package  desired.  At the end of the desired stay in Bamfield we head back across the island stopping again to fish the south end of Nitinat Lake.
At the days end we return to Lake Cowichan.
PRICES
**Prices will be determined depending on the number of days selected for  the adventure.